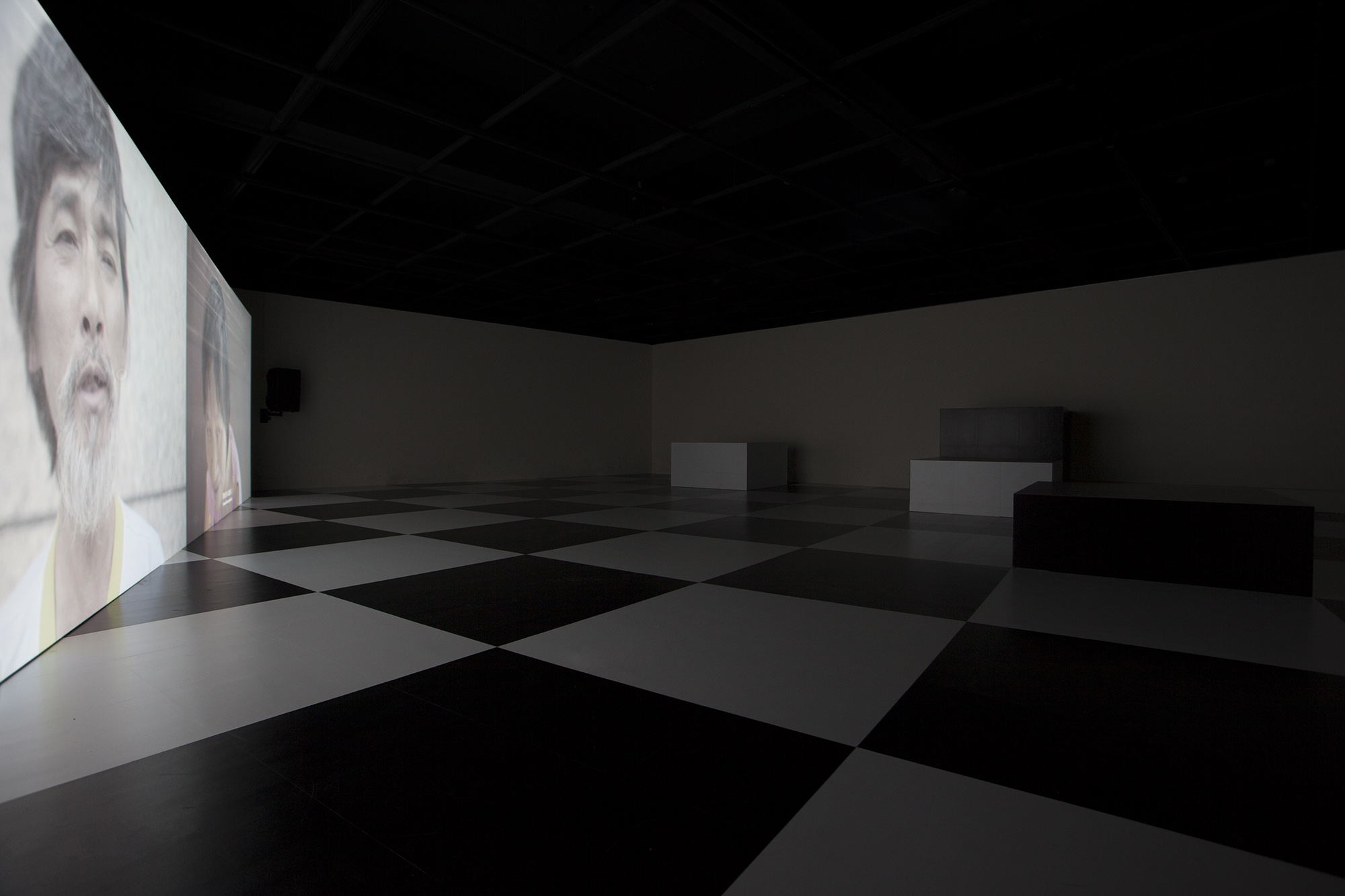 The ship of fools mooring at the train station
25'16"
2016
Double Channel Sound/Video Installation, color, stereo




"Ship of Fools" is a literature term derived from Sebastian Brant's work "Ship of Fool" published in 1949, which depicts a wandering vessel with 111 fools. Each fool represents a kind of secular character or social problem. The allegory soon became popular at the time.

However, the ship of fools did exist.

In 15th century, the deranged passenger on the ship of fools wandered from one city to another, leading a carefree life style. The cities expelled them, so they were allowed to wander in sparsely populated villages, especially in Germany. The water and sailing indicated the most unknown destiny, thousand-branched rivers and endless oceans became the most liberal and open-minded place.

Taipei main station, to many people, is never a place to linger, it's a node during moving. However, in an aspect that we can't see (or we don't want to see), it has become a gathering spot for more than two hundred wandering people who has been expelled by social system voluntarily or reluctantly. Including of unemployed workers, the disabled, or those who have been considered mentally ill. Taipei main station has become the ship of fools, bringing those who are expelled by the society. Decades passed, they've become a structured group, with division of works, with hierarchy, with communities, even with their own history. They co-exist with civilization of different eras in a variety of form.

Since 2014, I started to get in touch with the group that has been expelled from society, the group we called homeless people. I initiated many related projects in 2014, however, no one in the end really finished. The reality was out of my imagination. At the beginning I followed a homeless people who lived around my neighborhood, and wrote down my observation everyday, trying to map out the distribution of homeless people in the city. I participated in NGO "Homeless Taipei", in order to understand the supportive actions taken by those NGOs. I sketched the portraits of homeless people and collecting their personal stories. In the end of this process, I was led to the massive and complicated public space of Taipei Main Station.

With the time I stayed in this territory, the feature of this space gradually changed. I grew my own network in this micro society. Little by little, I realized that it was not the serious patient expelled by society who was to take this ship of fools. It was the division of ideology through some kind of binary value judge. Or to be frank, both you and me are the passenger of the ship of fools.








停泊於車站的愚人船
25'16 "
2016
影音裝置、雙頻道播放、彩色、雙聲道



「愚人船」是一個文學詞語,出現於塞巴斯蒂安·布蘭特於1494年創作的「愚人船」,書中描寫一隻漂泊大船上載著111個愚人,船中每一個人代表一種世俗性格或社會弊病,是當時社會有名的諷刺小說。

然而,愚人船是確實存在過的。

在十五世紀,愚人船載著那些神經錯亂的乘客從一個城鎮航行到另一個城鎮,瘋人因此便過著一種輕鬆自在的生活。城鎮將他們驅逐出去,他們准許在空曠的農村流浪,在德國尤為常見。水域與航行指引了最未知的命運,千支百叉的江河與茫茫無際的大海成了最自由、最開放的地方。

台北車站 ,對大多數人來說是一個不曾久留的交通樞紐,一個移動的節點。但在另一個我們看不見的面向(或選擇不看見),這裡聚集了兩百多名自願亦非自願被社會制度流放的流浪者,含括無工作的人、身心障礙的人、或我們稱之有精神疾病的人,台北車站像一艘愚人船一樣承載了這些被社會排除在外的人們,幾十年的時間下來已經成為了具有結構的群體,他們有分工,有位階,有社群,甚至有歷史,在不同時代以各種形式與文明共存。

我從2014年底開始接觸那些在社會藩籬之外的族群 : 我們稱之為流浪漢的人們。從2014年底開始我開始著手許多與之有關的計畫,但誠實的說零零落落的沒有一個能夠完成,因為現實條件總是溢出我所想像之外太多。從一開始跟蹤住家附近的一位流浪漢,並每日進行一些書寫。透過觀察北市的流浪漢來繪製台北市流浪地圖與分佈關係,也曾參與過民間團體芒草心的志工活動,以理解民間採取何種援助姿態介入遊民社會。一邊進行流浪漢人像速寫繪製一邊採集更多人物故事的資訊,最後一連串的過程將我引領到台北車站這個巨大且複雜的公共空間。

隨著我進入這個領域的時間越久,車站的空間的屬性開始轉變成另一個樣子,我也這個小社會建立了人脈。慢慢的我也發現,愚人船乘載的並不是各種被社會制度流放的重病患者,它乘載的只不過是某種被二元價值判斷所劃分的意識形態。或者更誠實的說,你我都坐上了一艘巨大的愚人船。







︎︎︎